After two years, Pequeno Príncipe Gala is held in person once again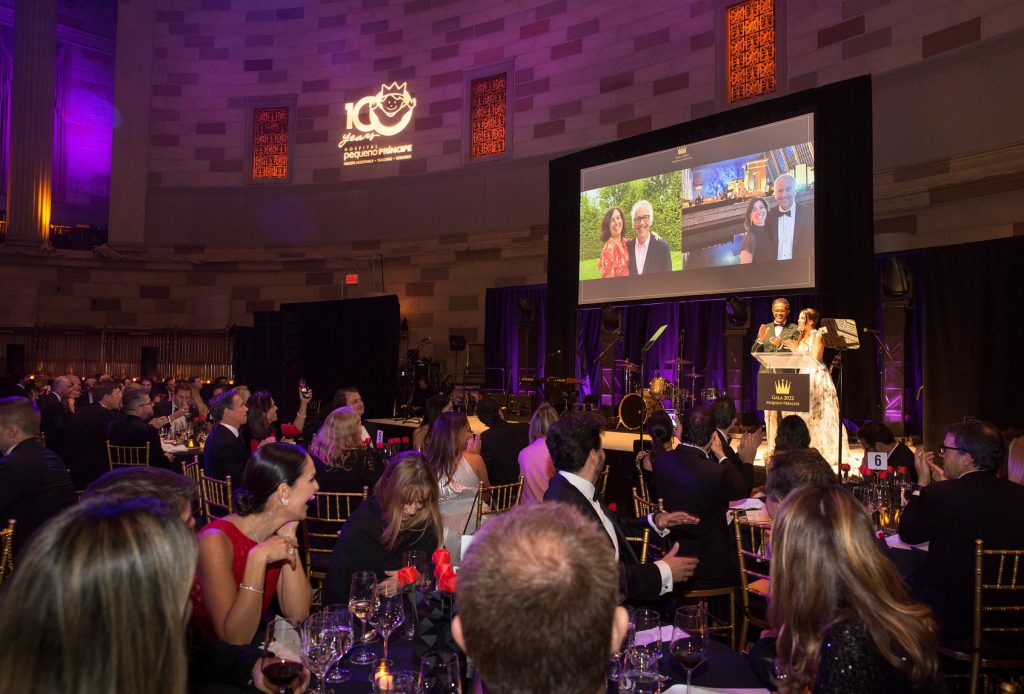 "Connecting with others is what makes us feel human, it's what brings meaning to our lives, it's what makes us feel alive," highlighted the executive director of Pequeno Príncipe Hospital, Ety Cristina Forte Carneiro, in her speech during the 12th edition of the Pequeno Príncipe Gala, held on October 14th at Gotham Hall in New York. After two years of taking place online because of the COVID-19 pandemic, the event has returned to being in person, allowing more connection between the 260 attending supporters.
"If you ever needed medical care for yourself or someone you love deeply, you know the value of what we do. Therefore, I invite you to support our cause," emphasized Ety Cristina. Conducted by the masters of ceremonies Jair Oliveira and Tania Khalill, the event brought together haute cuisine and solidarity. Chefs Thomas Troisgros, Daniel Boulud, Manu Buffara and Rafa Costa e Silva prepared an exclusive menu, under the command of the patron of the initiative, chef Claude Troisgros, who has supported the Pequeno Príncipe for over ten years.
And you will learn more details about the Pequeno Príncipe Gala in the main article of the ninth edition of the Pequeno Príncipe News in 2022. Another highlight of this edition is about an unprecedented surgery performed by the Hospital's Interventional Radiology Service. The minimally invasive procedure restored a 7-year-old patient's eye, preventing her from losing her sight. Pediatric interventional radiology is a relatively new area of medicine. There are around 300 pediatric interventional radiologists worldwide and only 16 services that train these professionals. In Brazil, only three physicians act in the pediatric area, two of them in Pequeno Príncipe.
At last, the Pequeno Príncipe News talks about another very important subject: the challenge of doing research in Brazil. In 2021, the country saw its budget return to the levels of 12 years ago. Today, Brazil allocates around 1.2% of its Gross Domestic Product (GDP) to science, while countries like China, Germany and the United States invest more than 3%. "Despite these discouraging numbers, Brazil ranks 13th in the number of scientific articles published. This demonstrates the great resilience and creativity of Brazilian scientists – who, despite all the difficulties, have made solid contributions to the advancement of knowledge in the world," reflects the scientific director of the Pelé Pequeno Príncipe Research Institute, Bonald Cavalcante de Figueiredo.
To read the full-length articles in the ninth edition of the Pequeno Príncipe News in 2022, please access this link.