Social Engagement
The history of Pequeno Príncipe is marked by social mobilization. For over 100 years, the support of citizens and businesses has been essential for much-needed advances in prevention and health promotion for boys and girls across Brazil. Individuals and companies contribute with the donation of time, talent, and allocation of resources, either through direct donations or via tax incentive laws.
In this long journey of the institution, there were many people who made the difference. They are doctors and other health professionals, volunteers, children, and their families, who teach and inspire us everyday with their stories of overcoming challenges.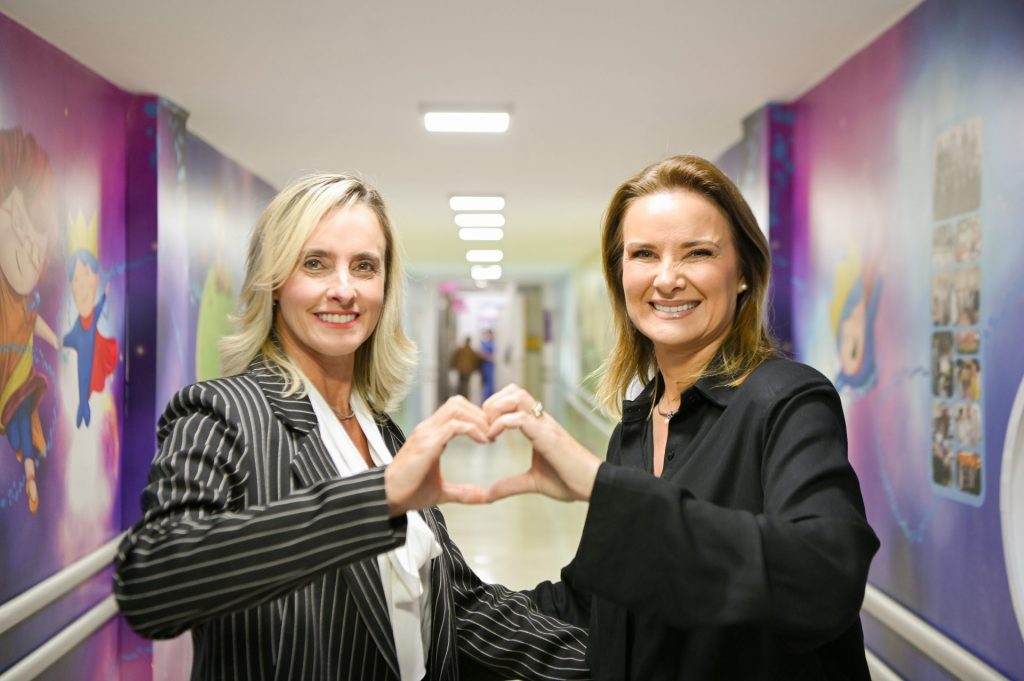 And there are also social investors, who joined the Hospital's entire technical team to mobilize society around the cause of child and youth health. The Gala do Bem, a special edition that unites the Pequeno Príncipe Gala and the Jantar do Bem, is an example of how philanthropic supporters engage and strengthen the institution. In this context, the participation of Many Tigre Elache and Marjorie Geiger Hauser, philanthropic supporters of this initiative, stands out.
Many is a longtime supporter of Pequeno Príncipe. Alongside her husband, Dinho Elache, she was one of those responsible for the success of Pequeno Príncipe in setting up its bone marrow transplantation unit in 2011. Parents of a young couple who were born with a rare disease, they already had one close relationship with the assistance provided by the institution. "Despite this approach to assistance, our involvement with philanthropy began through our friend Dr. Eurípides Ferreira, who had the dream of implementing the Bone Marrow Service at the Hospital. He sought us out, and we embraced the cause, contributing to the installation of the first three beds in the service and to the revitalization of the area dedicated to oncology and hematology," she recalls. Since then, she collaborates to maintain the service, actively mobilizing a group of donors for continued support and contributing to the realization of Jantar do Bem. Many and Dinho are also advisors to the institution.
Marjorie Geiger Hauser also entered the world of philanthropy from personal experience. Her husband, Danilo Hauser, had leukemia and needed a bone marrow transplantation to cure it. The treatment was provided by the physician Eurípides Ferreira, and, as a way of showing appreciation for the care given, they started to support the dream of implementing the Hospital's Bone Marrow Transplantation Service. In addition to being a great mobilizer of Jantar do Bem and supporter through her company, Marjorie is also a volunteer in the Pequeno Príncipe chaplaincy, giving testimonies about the power of faith and supporting families in the daily challenges they face in the fight for their children's health.
Along the way, it is also important to highlight the participation of Daniele Giacomazzi Behring, Amalia Spinardi Thompson Motta, Belinda Badcock Brito, and Monique Nosé, supporters of Pequeno Príncipe Gala.
Another relevant contribution is that of the renowned French chef Claude Troisgros. He embraced the gastronomic events of Pequeno Príncipe since its inception, in 2011. For 12 years he has been donating his time and talent for the benefit of the lives of thousands of boys and girls from all over Brazil.
Philanthropic committee
The Gala do Bem – as well as the Pequeno Príncipe Gala – lean on a philanthropic committee made up of members who support actions to publicize the event and mobilize people and resources for the cause of child and youth health.
Meet the committee members below:
Alana Cristina and João Gilberto Fonseca • Amalia Spinardi Thompson Motta • Ana Maria Igel and Mario Higino Leonel • Andressa Gulin • Daniele Behring – Fundação Behring • Danilo Hauser – Bauart Construções Ltda. • Dinho Elache – BGV Administração de Bens S.A. • Espaço Klaine • Fondation Antoine de Saint-Exupéry pour la Jeunesse • Isabel Raad – La Violetera • Joana D'Arc Durli – Durli Couros • Lucia and Antônio Malucelli • Marcia and Geraldo Klaine • Mariana Munaretto Guzzo and Victor Augusto Pondé Fonseca • Mariana Pozenato – Associação dos Notários e Registradores do Estado do Paraná • Mariella Muller and Guilherme Michaelis • Master Cargas Brasil • Paula Mocellin Slaviero and Eduardo Pimentel Slaviero • RAC Engenharia • Regina and João Casillo • Tania and João Anselmo • Tucumann Engenharia.