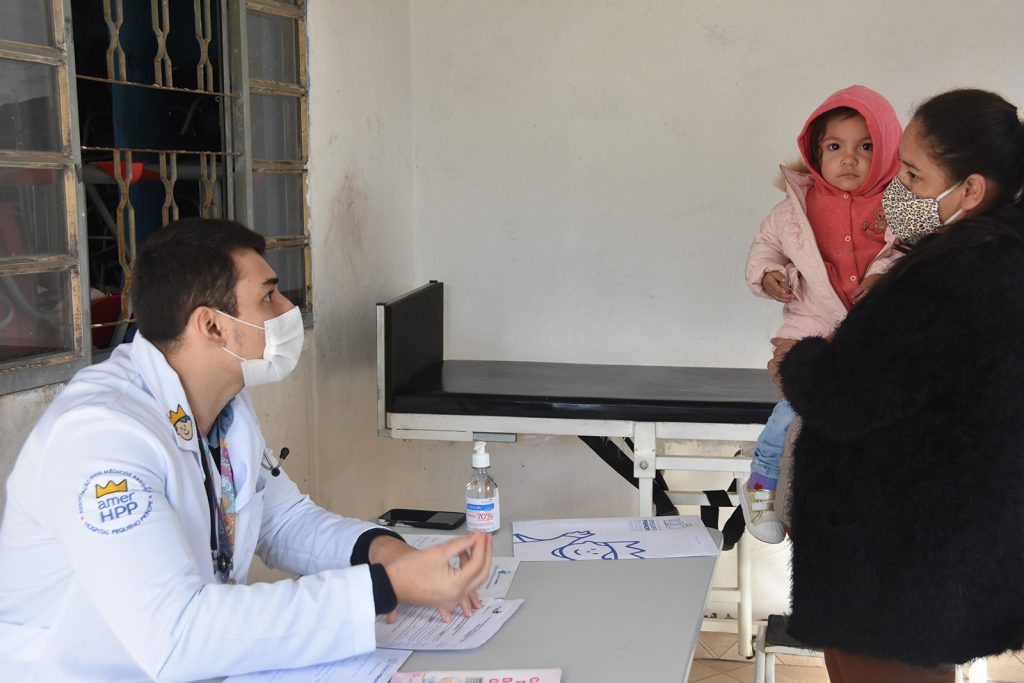 An initiative by the Pequeno Príncipe Hospital is providing more healthcare opportunities for indigenous children and adolescents who live in the Kakané Porã village, located in the extreme south of Curitiba (state of Paraná). The urban village counts on 53 children and adolescents who are included in the project. "Our goal is to extend good care to this population, bringing the Pequeno Príncipe way of being and doing to the village," explains the institution's executive director, Ety Cristina Forte Carneiro.
The project began in July and foresees eight face-to-face health meetings over a period of 12 months, with a multiprofessional team, for screening and medical consultations to evaluate the health conditions of each person and referral for exams and consultations with specialists at the Hospital, when necessary. In these meetings the vaccination cards are also being evaluated, for later organization of a joint effort, with support from the municipality's health department, aiming at updating the vaccines of the village's children and teenagers.
Besides the healthcare services, reading workshops are scheduled with a mobile library by the Education and Culture Sector; conversation rounds with family members and the Humanization and Psychology teams; and, also, volunteer activities. And in the ninth edition of the Pequeno Príncipe News in 2021, you will know more information about this project. Another subject of the news is a study involving researchers from the Pelé Pequeno Príncipe Research Institute that has proven that some genetic and immunological factors are key for people infected by the SARS-CoV-2 to develop severe forms of COVID-19. A review article, released in the scientific journal Immunobiology, brought together information from 87 research studies – published from the start of the pandemic until July 2021 – and pointed out that some enzymes in human cells can act in concert with SARS-CoV-2 and facilitate infection with the virus.
The third article of this edition, by its turn, is about the "Pequeno Príncipe Gala 2021 – 10 years: celebrating science and life", which exceeded the fundraising goal. The exciting night was marked by reflections on the fight against the coronavirus, by stories of overcoming and a lot of solidarity. The event was held once again in a virtual way on October 22nd, a special month for the institution as it is the period when the Children's Day, the Doctor's Day and the 102nd anniversary of the Pequeno Príncipe Hospital are celebrated.
Click here and read the full-length articles in the ninth edition of the Pequeno Príncipe News in 2021.