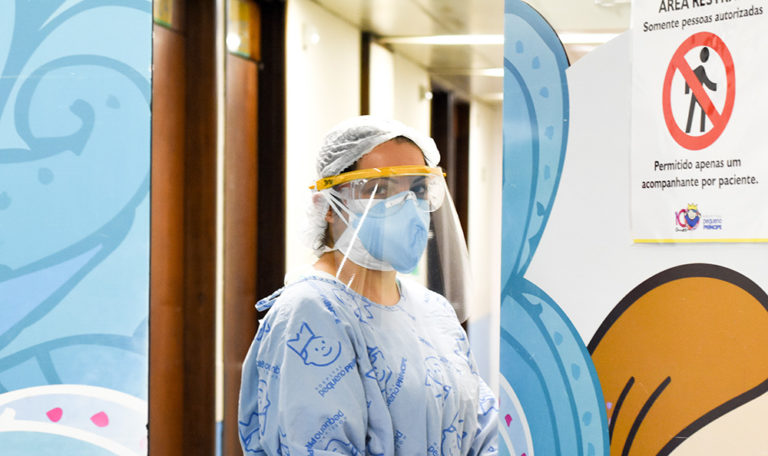 The Pequeno Príncipe Hospital started its preparation for facing the coronavirus (COVID-19) in January. While the health teams were working on planning new protocols and measures for prevention, protection and assistance to patients and employees, the administrative team was beginning to feel the logistical and financial impact of the pandemic. "This moment we are experiencing will have a strong impact on our economic and financial sustainability," says the corporate director of the Pequeno Príncipe Complex, José Álvaro da Silva Carneiro.
Among the reasons for this impact are the increase in the costs of materials and essential supplies to attend COVID-19, associated with the drop in revenues generated by the suspension of elective surgeries. "More than ever, we need the support of society to overcome this moment and continue to serve children from all over Brazil with excellent medicine that has been our mark for 100 years," declares the Hospital's executive director, Ety Cristina Forte Carneiro.
This is one of the subjects of the 3rd edition of Pequeno Príncipe News – Special edition COVID-19, that also presents a report about the severe drop in Pequeno Príncipe revenue caused by the cancellation of elective surgeries. The suspension of this procedures was one of the measures adopted by the institution to prevent the spread of the coronavirus and to be able to serve children and adolescents who are afflicted by the virus. Some of this measure, however, has a direct impact on the Hospital's economic-financial sustainability.
In the first half of April alone, for example, the number of surgeries performed in Pequeno Príncipe fell by more than 80% compared to the same period last year. In 2019, 970 were performed. This year, there were 172.
COVID-19 Report
At last, this edition of Pequeno Príncipe News presents a report about the patient care offered to boys and girls with suspected of the disease. Since March 4 until April 24, the Pequeno Príncipe Hospital investigated 79 patients with suspect of COVID-19 and six cases have been confirmed. Of these, four are recovered of COVID-19 and the patients hospitalized were receiving all necessary care.
Click here and read the full-length articles in the 3rd edition of Pequeno Príncipe News – Special edition COVID-19.